From his college years as a rugby and football player at Yale University to tennis, sailing, and golfing and traveling around the world, 79-year-old Lee Marsh has always maintained an active and vibrant lifestyle.
"In my early years, I was always in excellent health. I was a football and rugby player in high school and college. Then I did a lot of sailing, tennis, and golf to be social with friends and old roommates when we got together for reunions." Lee said.
Lee was also an active world traveler and has visited more than 80 countries, including Alaska, Italy, China, India, Jordan, Chile, Mexico, Cambodia, Bhutan and Tibet. His now-deceased wife, Sandra Marsh, accompanied Lee on many of his trips.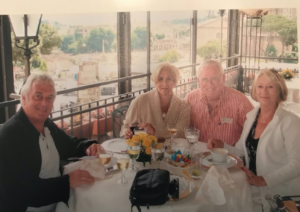 Aging, Diuretics & Dehydration
But unfortunately over time Lee developed high blood pressure and was diagnosed as pre-diabetic. Doctors prescribed Hydrochlorothiazide, a diuretic medication that removes liquid from the body to lower blood pressure and Metformin an oral medication for his pre-diabetes that causes diarrhea.
"I take more than six medications in total. The effects are very dehydrating. Hydrus has helped me to manage my constant urination and other effects. My doctor had absolutely no objection to me using Hydrus even though I have high blood pressure. My doctor said that if it helps and provides benefit, I should continue to take it," Lee said.
In 2013, Lee met with an unfortunate accident and fell while changing in the hospital exam room after a simple for an x-ray on his leg.
"I went in for a test and wound up with three compression fractures in my back, a separated shoulder and torn rotator cuff. I couldn't drive or get to our bed. It limited a lot of things for me. My athletic participation slowed down at that point," Lee said.
While Lee's compression fractures have healed, he continues to experience muscle and joint pain, and stiffness daily and has difficulty rotating his shoulders, twisting, and lifting heavy items.
Lee says he's also able to feel signs of arthritis in his hands where he had broken a lot of bones. "Whenever I go outdoors. I feel the cold tremendously, and my hands would get stiffer faster. Nobody is suggesting that at my age, I should undergo surgery. So the only recommendation doctors have is exercise," Lee said.
Diuretics, Dehydration & Joint Pain
The dehydration caused by taking diuretic medications could be making his joint and muscle pain worse. Nearly 70% of our muscle and 80% of cartilage is made up of one essential component: water. And when our bloodstream doesn't have enough water due to being dehydrated, our body will pull water from other places including our cartilage and muscles.
Lee said that he was surprised to feel a marked improvement in his dehydration, muscle pain, joint pain, and stiffness overnight. "I was expecting it to take a week before I would feel a difference. But I felt less stiff overnight- the very next morning," Lee said.
Lee says that Hydrus has not only helped with his muscles, joints and ligaments, but it has also improved his leaning forward.
"You have to fight that slump, and that's what happens at this age. But I feel it right away. There's an immediate improvement in my stiffness and leaning. It's especially noticeable when I'm walking to get the paper in the morning," Lee said.
In January of 2020, Lee fell sick with a severe cold and flu. He was hardly able to get out of bed and had stopped taking Hydrus.
"I thought I should start retaking it. As soon as I took Hydrus, I could tell the difference again immediately. I felt dumb for not taking earlier, "Lee said. "My body needed the electrolytes to fight the sickness and flu-like symptoms I had," Lee said.
Lee says that if he forgets to take Hydrus, he feels a tightening coming back and finds himself leaning forward more often and sometimes even more tired. "I can tell the difference if I forget to take it. I don't feel my stride, and it takes longer for my muscles to feel warmed up," Lee said.
Lee takes Hydrus two to three times a day, in the morning and at night before going to bed, and occasionally in the afternoon.
Buy Hydrus Now, and learn how proper hydration can help to improve your quality of life!