Nothing can be worse for a mother than watching her child suffer without being able to do anything about it. Kelly Riviera is among the thousands of mothers in the United States, with a child diagnosed with Postural Orthostatic Tachycardia Syndrome (POTS) Dysautonomia.
Her 12-year-old daughter Elise started getting ill in August 2019, displaying symptoms that didn't seem to make any sense, such as a rapid and elevated heart rate while having very low blood pressure.
"We couldn't figure out where her symptoms were stemming from. Nobody could tell us what was wrong. It turns out she has a neurological condition POTS and was experiencing 30 to 50 symptoms. The biggest issue was that her heartbeat was 150 while she was doing nothing, and at the same time, her blood pressure was very low," said Kelly.
After nearly 10 visits to the emergency room, more than a 100 doctor's visits nearly nine months later, Elise was finally diagnosed with POTS in November 2019.
How Hydrus Helped Manage Elise's Symptoms
Kelly said that after Elise's diagnosis, she immediately began searching for products of any kind that could help lower Elise's heart rate and prevent her from fainting. And that's when she found Hydrus.
"Hydrus has been a lifesaver for my 12-year-old daughter. It is the only thing that was able to reduce her heart rate and stop her from fainting. It was incredible. When the kid would stand up before she would faint, I'd give her Hydrus and wait 5 minutes she would stand up normally," said Kelly.
Kelly says that Elise's body isn't able to absorb nutrients properly, including medications. Elise has a digestive disorder GERD that causes stomach acid or bile to flow into the food pipe and irritate the lining.
"Getting medication into her system has to go through her skin because if it has to be absorbed through the stomach- it's not going to happen," said Kelly.
Elise has been taking Hydrus mixed with water daily three times a day, first thing in the morning, in the afternoon, and before going to bed since January of this year.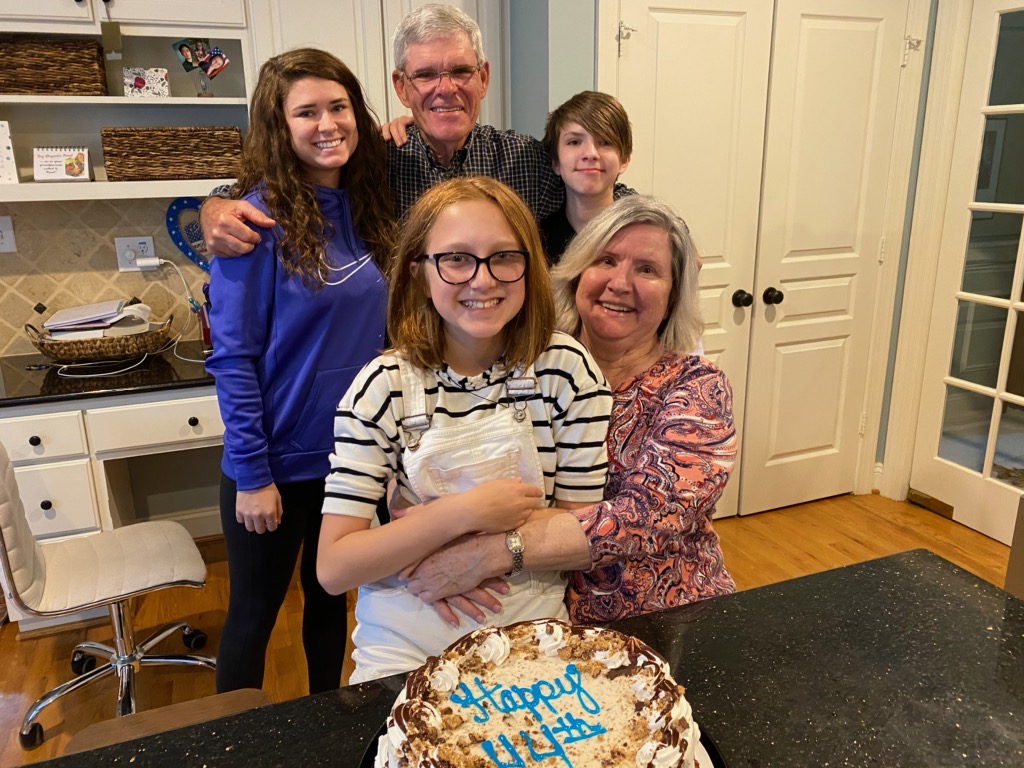 Improvement in Elise's Overall Health
Kelly says she's seen a vast improvement in Elise's health. The 5 foot 2 inch tall young teen who weighed only 65 pounds is now 83 pounds.
Kelly says that in addition to improving her rapid heart rate and blood pressure, Elise's skin looks healthy, her eyes are brighter, and she is even able to concentrate better on her school work.
One of the first effects that Kelly observed was that Elise's pupils started to constrict immediately after taking Hydrus. "I could literally watch it happen," she said.
Kelly said the family also looked into IV therapy and getting a port with a saline bag for Elise. "The only reason we didn't need to do that was because of Hydrus," she added.
Kelly says that, unlike most medications with multiple side effects, Hydrus doesn't have any. At one point, Elise was taking up to 30 pills and now thanks to Hydrus and the ability to manager her symptoms, she's down to 17 medications.
"POTS affects so many parts of the body that we take for granted. We don't think about these things until we have too," said Kelly. "Before Hydrus, Elise had no energy, felt lethargic, and her medications couldn't be absorbed. Hydrus has helped to get her quality of life back," Kelly said.
"I've been homeschooling Elise before Covid-19 due to her health conditions. And she'll say to me in the middle of the day while doing her homework, 'mom, I need a Hydrus.' She doesn't like drinking juices and flavored drinks- only water and milk. She loves the taste of Hydrus. It's not heavy and sweet. It's tart and tasty," Kelly said.
Hydrus is formulated to deliver the electrolytes your body needs more effectively than drinking water alone.
Kelly said she's shared how Hydrus helped Elise deal with symptoms with her daughter's doctors (rheumatologists, cardiologists, neurologists, and physical therapists) at the children's hospital in Norfolk, Virginia. She hopes that other families will learn how Hydrus can help them manage symptoms of POTS as well.
"I've got her back to her old self, and I am so grateful for a product like Hydrus," Kelly said.
To learn more about how Hydrus has helped people with POTS, Sjogren's Syndrome, Lupus and other autoimmune conditions click here.